Engine Specifications and Fuel Economy Ratings of the 2021 Hyundai Sonata
By Product Expert | Posted in Hyundai on Wednesday, October 6th, 2021 at 5:28 pm
How fuel-efficient is the 2021 Hyundai Sonata?
The 2021 Hyundai Sonata is fuel-efficient and powerful. Scroll down to view its engine specifications and fuel economy ratings. You can find Hyundai sedans here at Third Coast Auto Group. We have locations in Austin, Round Rock, Kyle, and New Braunfels, Texas.
---
2021 Hyundai Sonata performance specifications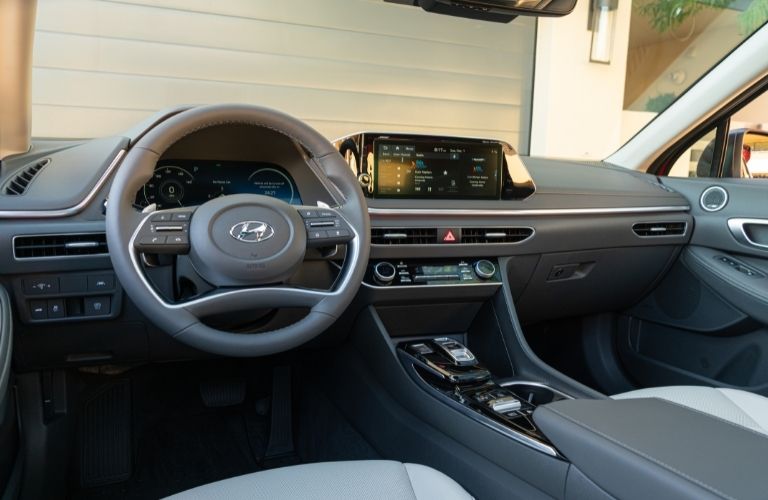 The standard engine of the 2021 Hyundai Sonata is a 2.5 L I-4 engine with a direct injection fuel system. In the chart below, you can learn more details about this engine. Higher trim levels may have different standard engines. 
| | |
| --- | --- |
| Required fuel | Regular unleaded |
| Maximum horsepower | 191 |
| Maximum torque   | 181 |
| Standard engine type | 2.5 L I-4 |
| Standard transmission type | Automatic 8-speed |
| Standard drivetrain | Front-Wheel Drive  |
| Estimated city fuel economy | 28 mpg |
| Estimated highway fuel economy | 38 mpg |
| Estimated combined fuel economy | 32 mpg |
| Fuel capacity | 14.8 gallons |
How far can the 2021 Hyundai Sonata travel on one tank of fuel?
We know how fuel-efficient the 2021 Hyundai Sonata is and how large its gas tank is. With these numbers, we can find its approximate range. It can drive roughly 414.4 miles in the city or 562.4 miles on the highway between gas station stops.
Is the 2021 Hyundai Sonata an environmentally friendly vehicle?
The 2021 Hyundai Sonata has a CO2 emissions rating estimate of 5.6 tons per 15,000 miles of driving or about one year of driving. We've already told you its fuel economy rating in the chart above, and with these two numbers, you can make your own judgment on whether this is an eco-friendly vehicle. To improve your impact on the environment, consider a hybrid vehicle. 
Does the 2021 Hyundai Sonata have a hybrid version?
Yes, it does. The 2021 Hyundai Sonata hybrid can get up to 52 mpg combined. Trim levels will vary, and fuel consumption will vary based on where you drive and how you drive, but, in general, the 2021 Hyundai Sonata Hybrid is very fuel-efficient.