How do I attach new windshield wipers?
By Product Expert | Posted in FAQs, Tips and Tricks on Wednesday, January 15th, 2020 at 9:26 pm
Windshield Wiper Attachment Instructions
Like headlights, brakes, tires, and many other parts of the automobile, windshield wipers are a necessity that often go taken for granted until they break down. When this sad state of affairs occurs, it's time to replace your windshield wipers and attach new ones. A service shop can certainly do this for you, but a fair amount of labor costs can be saved by doing it yourself.
How does one replace and attach new windshield wipers on their vehicle?
Getting the Right Replacement Wipers
Before even starting the replacement procedure, one must obtain the proper replacement wipers. To be sure that you get the correct size and type, consult the owner's manual for your vehicle (you can probably find this online through a Google search). The manual may even include step-by-step replacement instructions, meaning you could (theoretically) just ditch this guide and follow that!
Note that with some types of wipers, you can just replace the blade part. With others, the entire wipers need to be replaced.
Increase Your Knowledge: What's the difference between soft-touch and touch-free car washes?
How to Attach New Windshield Wipers
Now that you have the correct replacement wipers, complete the procedure by following the steps below:
1. Lift the wiper arm away from the windshield.
2. Unlatch your current wipers. There are various unlatching mechanisms that wipers use; some allow one to simply pinch and pull, while others require a button to be pushed or a latch to be unlatched. Some futzing and jiggling may be required to complete the detachment.
3. Slide the blade off the arm (if this is your wiper-type) by pulling downward.
Note: After detaching, it's recommended that you wrap the now-bare wiper arm or hook in a towel. This will prevent your windshield from being damaged if the wipers suddenly turn on or an arm smacks the windshield.
5. Remove the plastic protector from the rubber side of the blade.
Note: If the new blades come with a rubber optimizer pad, use it to clean the wipers before installing them. Doing so can remove debris, grease, oil and other such unwanted things.
6. Pull the blade tight onto the arm. Latch the new wiper blades by reversing the procedure you used to take the old ones off. Lower the arm back onto the windshield.
7. Test out your new wipers to be sure they're working.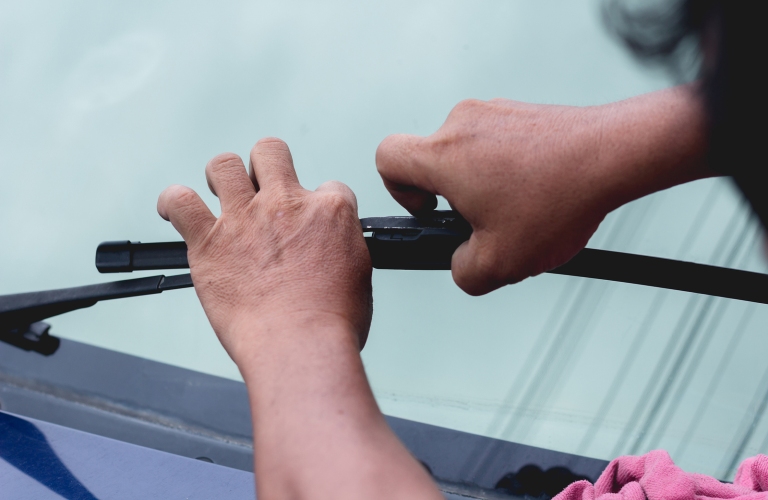 When You're in a Pinch, it's Good to Know: How to Change your Oil Fast